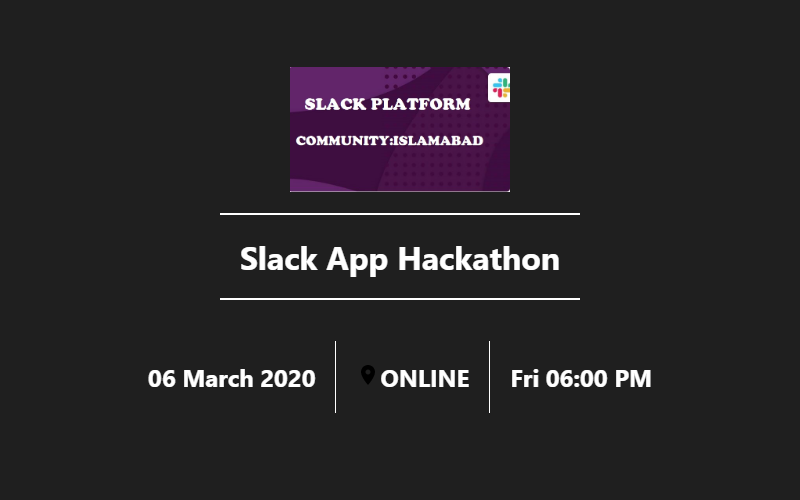 Slack App Hackathon
Fri, Mar 06
1:00 PM
ONLINE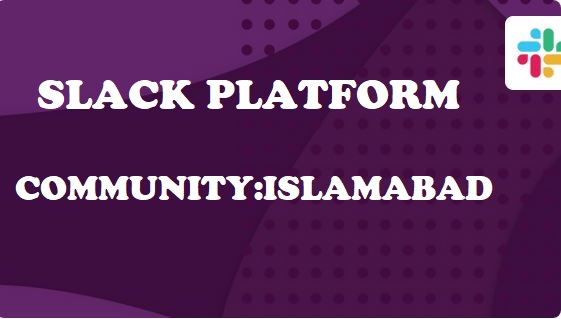 Slack Platform Community: Islamabad
Description:
Let's build for Slack's first virtual hackathon!
Interesting prizes in many categories, AWS credits, Slack experts in house to help you answer all the questions you wanted to ask about App home, Block Kit, modals and granular permissions.
Limited slots for hackathon, make sure you register & bring your laptops !!
The Slack app hackathon is a hands-on event running from March 2-9, and we'll be meeting up in person to work together on projects to submit in the hackathon. Whether you're new to the APIs or experienced at building on Slack's platform, this is an opportunity to develop the most modern and engaging app experience for your users.
How to participate:
RSVP to this event and join the community, if you haven't already joined. You'll also get invited to join our Slack workspace.
Register your intention to participate in the hackathon by visiting the official Slack page. You'll get more information about next steps directly from Slack. Get started with custom content, coaching, and complimentary AWS credit. Connect with Slack's product and engineering teams, seasoned Slack app builders, and other members of the community.
Join the Slack Platform Community workspace (if you aren't already a member).
Join our chapter channel - it's #spc-islamabad-chapter.
We'll use the channel to ask each other questions and share info during our gathering.
Attend the in-person event! Come ready to work: bring your laptop, charger, and great ideas.
Agend
: Wrap-up + head out
We'll wrap things up and say goodbye. If you're project isn't completed, don't worry - the submissions are due on March 9, and you can stay in touch in the workspace if you've got questions.
5:45 PM: Registration, snacks + drinks
Get here, get checked in, and get something to eat and drink - then we'll get started.
6:00 PM: Hack kick-off
We'll run through a quick intro about the community, the hackathon goals and prizes. If you're looking for someone to partner with, we'll have some time to get people connected.
6:30 PM: Hack your ideas
Focus, KISS, push - get your prototypes moving. We'll pause for a quick break, and check-in to see how folks are doing.
7:30 PM: Show and tell
Want to show off what you've built? Now's the time - we'll give each team/individual a few minutes to run through their use case and the solution they've built. If it's an existing app, be sure to call out the Slack app toolkit components you used to modernize it.
Hosted By
Hamza Tahir, Chapter Leader
Tech Entrepreneur | Founder @Visum | React Native & ML Developer |
Community Lead @facebookfordevelopers, @techstars, @startupweekend, @gbglahore, @sgislamabad |
Community Manager @ejadlabs
Hamza Tahir is a mobile app developer with lots of experience of building applications for Android/IOS/Desktop/Web platforms. Having a strong knowledge of Reactnative, AI & ML and Facebook Technologies, he can build literally anything in these platforms. He's one of the most active community builders in Pakistan. Leading communities like Facebook Developer Circles, Slack Platform Community, Techstars, Startup Grind Islamabad & Google Business Group Lahore in Pakistan.
He's the Lead organizer of Facebook DevC Pakistan Conference Lahore 2019, the first ever developers conference by Facebook outside Silicon Valley. He the Lead organizer of Startup Weekend Islamabad by Techstars & Co-Organizer of BizFest Lahore supported by Google Business Group. While belonging to the startup community, he's the Founder/CEO of "VISUM - The Virtual Eye" where their sole focus is on building smart glasses for visually impaired people. He's the youngest person in Pakistan to win 18 Hackathons.
"On a journey to empower the local tech ecosystem by building collaborative developer communities across the country!"
noor Ain, Chapter Leader
Global Partner
Slack (https://slack.com)
Slack is the collaboration hub that brings the right people, information, and tools together to get work done. From Fortune 100 companies to corner markets, millions of people around the world use Slack to connect their teams, unify their systems, and drive their business forward.
Slack Platform Community meetups are for developers, product managers, and designers who are interested in building integrations with Slack that make their teams' lives easier. Our groups meet to talk about what we've built, check out new platform releases, and connect with other people who are interested in building the future of work. Join us at slackcommunity.com.
ps://slackcommunity.com/events/details/slack-islamabad-presents-slack-app-hackathon/