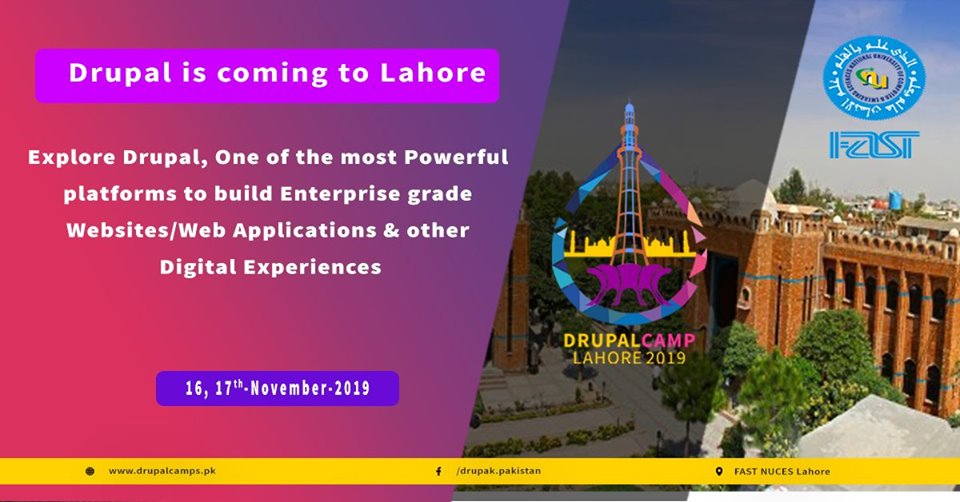 2019-11-16 04:00:00
Drupal Camp Lahore 2019
FAST NUCES Lahore Campus
Description:
Pakistan's Drupal Community is hosting Drupal Camp at Lahore - The technology Hub of Pakistan. The venue of Drupal Camp Lahore is Fast NUCES.
Drupal is a well-known and award winning free, open source content management system (CMS) and framework built in PHP, the most popular web development language. With Drupal one can build any type of Website like University/College/Library Websites, huge portals, Online shops, Government websites, Online advertising websites, Online jobs , Online Registration websites, Business community websites, E-commerce websites, Conference/Camp/Events Websites, Blogs, Forums or simple dimple… it's hard to figure out what Drupal can't do in web development.
Benefits of Drupal:
• Drupal is Open source (i.e. Free to acquire and use)
• Rapid Website Development (Within just a few hours or days you one can deliver a website as opposed to Custom PHP which will take ages)
• Thousands of Add-on Modules
• Modular Extensible Architecture
• Powerful Design Customization Options
• Multisite Management
• Thriving and helpful Development Community
• Proven Security Record
Who are using Drupal?
Some of the World's leading organizations using Drupal are as follows;
1. Whitehouse (www.whitehouse.gov) and hundreds of US Government Websites
2. NASA
3. Cisco
4. Weather.com for the Weather channel
5. Australian Government Portal
6. Indian Government Portal
7. French Government Portal
8. LUMS
9. Harvard University
10. Stanford University
11. Twitter
12. Canadian Government Data Portal
13. United Nations
14. British Council
15. Amnesty International
16. UNDP, UNESCO, WFP
17. Amazon Jobs
18. Lamborghini.
19. Tag Heuer
And thousands of more organizations around the globe use Drupal to empower their web presence.
In Pakistan, Government of Punjab, Khyber Medical University, Khyber Girls Medical College, PICO, Peshawar, Mehran University are in Drupal.
A Drupal Camp will take place at Fast NUCES Lahore on 16th - 17th November 2019 sorted out by Drupak (PVT) Ltd. With Drupal & its high profile Trainers and 100s of attendees this Drupal Camp will be the immense accomplishment of all time for Drupak & other Sponsors.
The Attendees:
• Web developers and architects
• Designers and user experience developers
• Back-end and front-end developers
• Scrum masters
• Content authors and strategists
• Site and business owners
• Freelancers
• Students.
• Plus numerous others functioning right across the digital experience background.
Speakers and Attendees are welcome to enlist yourselves on the site. Last date of session entries is 17th November 2019. The two day occasion will have the principal day as an entire day Drupal 8 Training. The second day will be the principle camp day with sessions from Drupal Developers on different subjects in Drupal. Drupal Gurus and amateurs are altogether welcomed. Welcome to Drupal Developers from all around, we will love to have you convey sessions in our occasion. Give every one of us a chance to endeavor hard to make this occasion one indelible one in our Drupal Careers. Give us a chance to remind the non-Drupal folks likewise, kindly do visit and go to our Drupal Mela, who knows it ends up being your extraordinary experience and fuel for prosperous professions in IT. www.drupalcamps.pk
Organize By: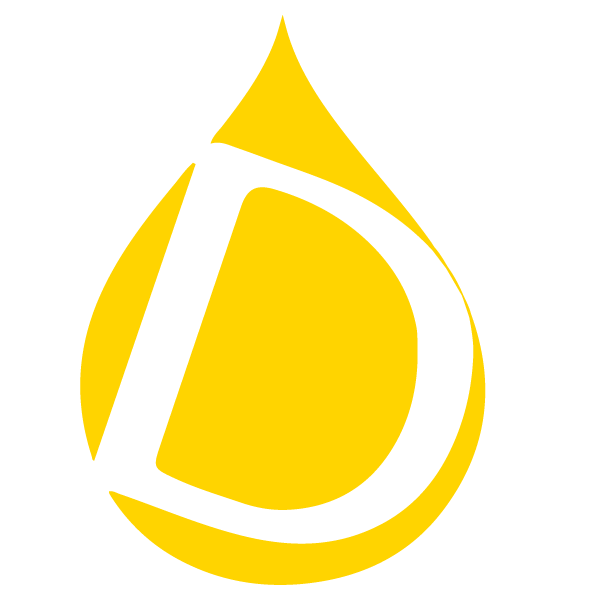 Durpak
Drupak is a Web Development, Web Consultancy and Training Company based in Pakistan and offices in Peshawar and Islamabad with expertise in Drupal.
Drupak Pvt Ltd has been providing Drupal related services to high profile organizations in Pakistan and internationally. We have developed Drupal Incubation and Research Center in our offices to further strengthen our developers' profiles and improve upon their Drupal skills.